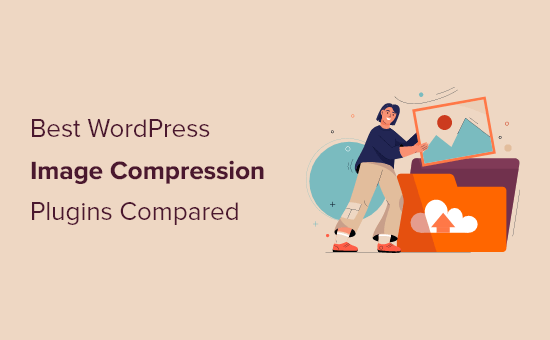 Images can enhance your site's experience, raise your brand, and provide additional assets for advertising. Unnecessarily huge images, on the other hand, might slow down website load times, harming your SEO and frustrating your users. You can prevent these disadvantages by optimizing your photographs while still getting the benefits of images. It is accomplished by lowering image size and changing how your site handles image loading. If done manually, the process might be time-consuming. However, WordPress users can save time by using image optimizer WordPress plugins.
Best free WordPress image optimization plugins
Smush
Smush is the most widely used image optimization plugin for WordPress. It employs lossless compression (no image quality is lost) to reduce the size of your images by up to 5 MB, either individually or in bulk. Other strategies for improving page performance include lazy loading and auto-resizing. Smush is a simple plugin for newcomers. It will then optimize all of your existing photos. Once the plugin is installed, any new photos you submit will automatically optimize. The fastest WordPress hosting companies can help you with the accessibility of image optimization plugin for WordPress
Optimus
Optimus can reduce the size of uploaded WordPress images by up to 70% if bandwidth is an issue. It is accomplished by the plugin sending picture files to the Optimus server and returning new, reduced versions for use on your site. It also eliminates the need to compress images on your server. Optimus is a hands-off solution that automatically processes photos as uploaded to your WordPress site, boosting page performance without your intervention. You can disable the automated optimization if you prefer.
EWWW Image Optimizer
Like our first two options, the EWWW Image Optimizer plugin automatically optimizes photos as they are uploaded to your site. You can also individually or in bulk optimize previously submitted JPG files.EWWW uses lossless compression.
However, EWWW has specific distinguishing characteristics that make it apart. Because the plugin supports infinite file sizes, you won't have to worry about enormous, uncompressed photos. Additionally, the premium API version supports PNG, GIF, and WebP files, making it excellent for sites that use all of these file types. Finally, EWWW Image Optimizer provides a support team that responds to all questions from free users.
ShortPixel Image Optimizer
ShortPixel, a freemium image optimization plugin, provides two picture compression options: lossless and lossy. Lossy compression means that some data from the file is removed, resulting in substantially smaller files with slightly worse image quality. If you can only choose one of these methods, try ShortPixel.
One of the plugin's best benefits is that it saves the original image copy, making it easy to restore if necessary. It has minor advantages, such as CMK to RGB conversion and image scaling. ShortPixel also supports unconfined compression of JPG, PNG, GIF, WebP, AVIF, and PDF files.
Compress JPEG & PNG Images
Compress JPEG & PNG Images automatically optimizes your JPEGs and PNGs by integrating with the image compression services. These programs examine the image's content and select the best compression approach without sacrificing image quality. This compression involves reducing or eliminating metadata, distracting artifacts, and data that are not necessary.
Compress JPEG & PNG Images and optimize all images as they are uploaded in the background, as well as images that have previously been submitted to your site. There are additional plugin options to maintain specific metadata, such as copyright and geolocation, in your photographs, a CMYK-to-RGB converter, and no file size limitations. However, you are restricted to roughly 100 free photos per month. After that, you'll need to upgrade to a paid account.
Imsanity
Imsanity is an image optimizer plugin that resizes images rather than compresses them. This free plugin alters dimensions when you add photographs to your WordPress site.
Imsanity also has a bulk resize tool for previously uploaded photographs and the ability to convert less optimal file types (such as BMPs and PNGs) to less bulky JPG formats. This plugin is excellent for content-heavy sites requiring authors to contribute their own photographs, such as blogs. Rather than depending on individuals to scale photos, utilize Imsanity to automate the process.
Imagify
Imagify, like most of the previous solutions above, compresses newly uploaded photos and images in your WordPress media folder. Everything is done automatically, which saves you time and improves your workflow. Imagify has three optimization levels you can switch between in the plugin options. It gives you more control over file size and quality.
reSmush.it
reSmush. is the reSmush's official WordPress plugin. It is an image compressor that uses several compression techniques to compress each image you upload. It allows you to free compress images up to 5 MB and bulk optimize photographs in only two clicks. It duplicates and compresses the original image, guaranteeing that the original is never lost. It also includes a sliding scale for customizing the compression level for improved control.
Kraken Image Optimizer
This plugin integrates with the Kraken.io API, an image optimization service that offers lossless and lossy compression. In addition to picture optimization, Kraken has a Page Cruncher and Dropbox compatibility. Kraken's infrastructure is used for optimization, and the output is added to your WordPress library. Aside from compression, the plugin automatically resizes photos upon upload based on the maximum dimensions set, and it has a bulk action menu for handling several images at once.
WordPress Compressor
WP Compress is a plugin for image optimization that reduces file sizes through local and live image optimization. It also supports adaptive images based on device, retina devices, and image lazy loading. File compression is done automatically. WP compress additionally employs a CDN to provide photos in as little as seven milliseconds while requiring large file sizes. It has a wide range of capabilities for agencies dealing with several client sites. These characteristics, when combined, make WP Compress a formidable contender for individuals who manage several client sites.
Final Words
A key advantage of using the fastest WordPress server is that their entire tech stack is dedicated to the WordPress experience. It implies your site will most likely have greater uptime, load faster, and experience fewer problems than it does now.
Smartrr offers the finest in class selection of quickest WordPress hosting companies to assist you in managing your WordPress needs, including image optimization plugins.